Yes, it is happening. Creamy Kale Pesto that is vegan AND nut free!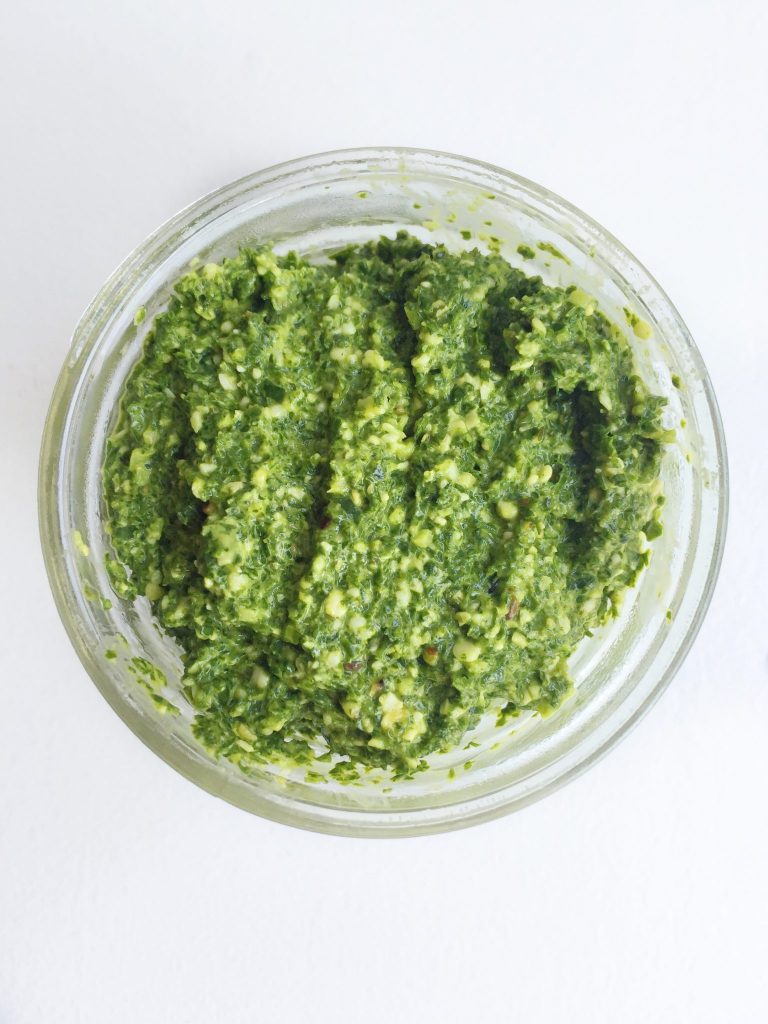 I bet you'd never guess that I am obsessed with pesto. Probably because 95% of my current recipes and Instagram pictures consist of my breakfast, snacks and desserts. Now don't get me wrong, those are my bread and butter and the main reason I even have a blog BUT that doesn't mean I can't share some of my other recipe creations with you.
I do have a huge sweet tooth and eat mostly sweet foods over savory always but when it comes to dinner, I need something savory to make me appreciate my nightly dessert even more. This Creamy Kale Pesto wasn't planned and I didn't sit in my kitchen brewing up some new ways to make pesto. I was going to bed the other night and had such a craving for it. I only ever eat my Mom's pesto since I know it's minimal garlic and it's not fun when pesto "repeats" on you the rest of the day/night, and I couldn't remember the last time I ate some.
Most pestos are filled with cheese, heavy oils and nuts but not this one! It is 100% vegan and nut free. I try to limit my dairy intake when I can and putting cheese in pesto (in my opinion) is a huge waste. I'd prefer to put dairy on my pizza or make a goat cheese omelette when I am eating dairy. So instead I used nutritional yeast.
The nut free aspect doesn't make a difference to me (obviously since I eat more nut butter than I care to share) but my brother is highly allergic so I always love to make things for him to have too. So instead of pine nuts or walnuts I used hemp seeds.
I also decided to use kale instead of basil or spinach because I don't eat enough kale (shh don't tell) and I want to find more ways to incorporate it into my diet. I can't drink green juice and drink green smoothies (yet) so until the day comes when I crave greens, I need to find more ways to fuel my body with them.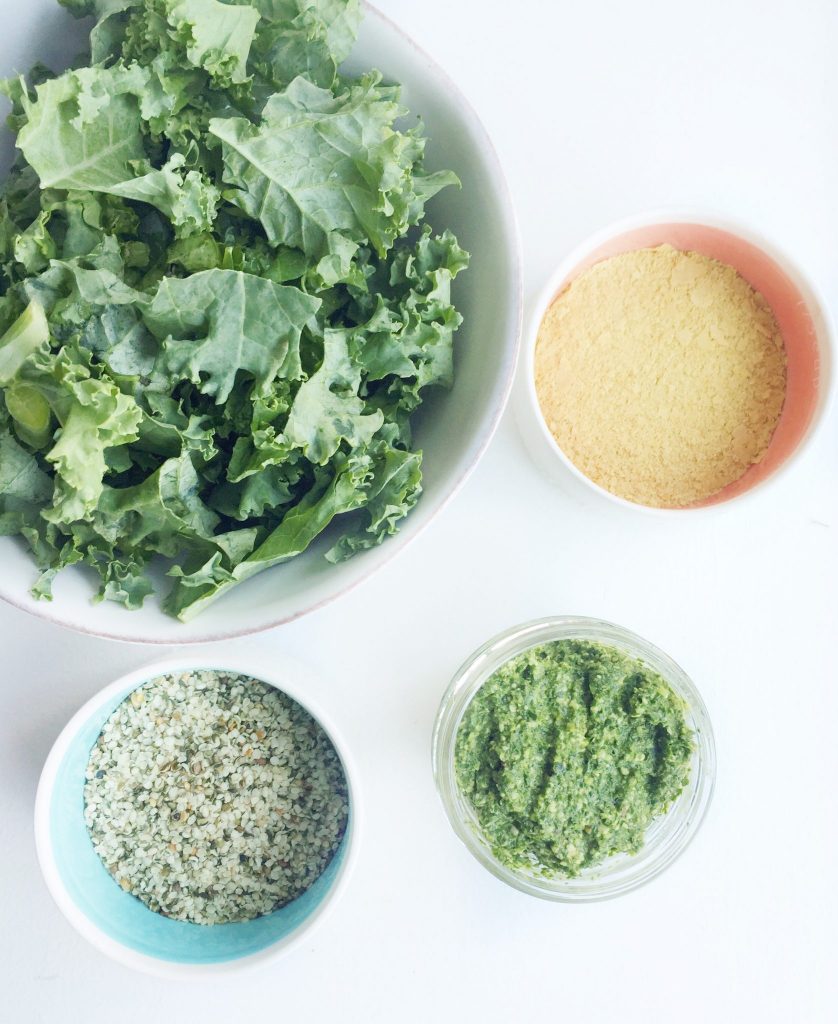 You may notice that I use my Magic NutriBullet for most of my recipes but for my Creamy Kale Pesto, I broke out our new Food Processor (clap clap clap). We got this so long ago when we first got engaged and have yet to use it. I am some what petrified of a Food Processor ever since I processed my Mom's wooden spoon in one (sorry Mom), but I felt this was the recipe to finally use it instead of my Magic NutriBullet.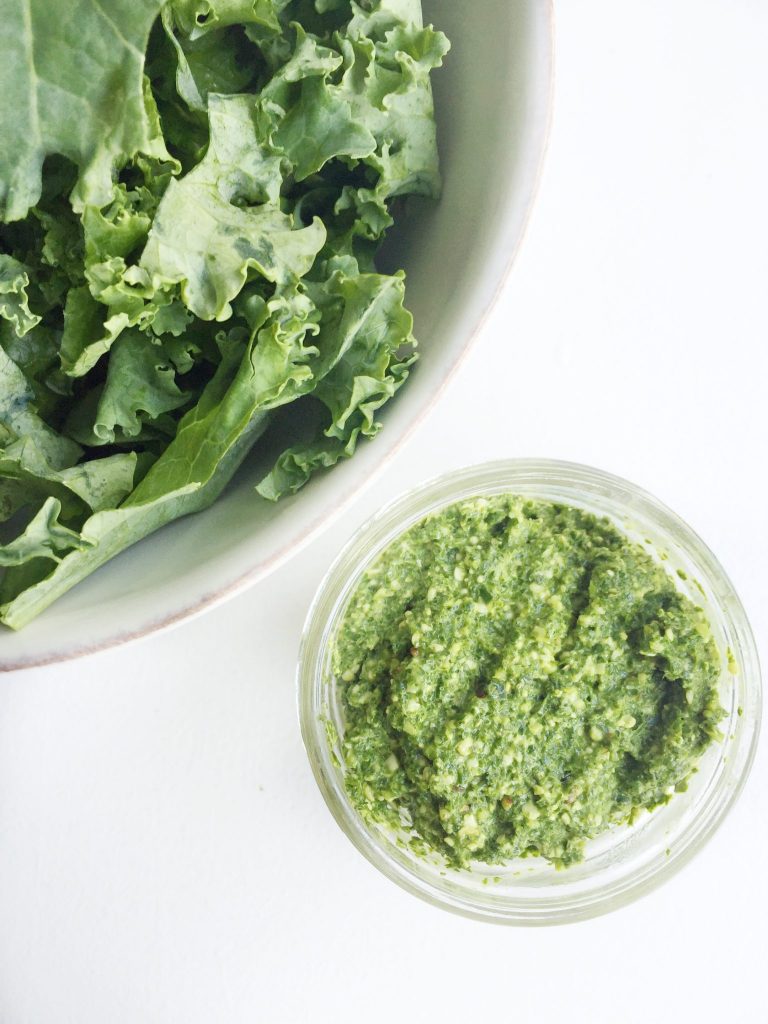 Now let's get to the Creamy Kale Pesto
Creamy Kale Pesto
Recipe Type
:
nut free, vegan
Author:
Prep time:
Total time:
Ingredients
4 cups of organic kale (packed)
1/4 cup of hemp seeds (or any nut)
2 tablespoons of nutritional yeast
2 tablespoons of extra virgin olive oil (or avocado!)
2 cloves of garlic
1/2 of lemon (juiced)
Instructions
Place all ingredients in your food processor
Pulse until blend to a creamy pesto consistency
Keep in fridge and enjoy for up to 5 days or freeze
xx, Rach