A Happy Gut Breakfast Bowl packed with probiotics & probiotics for a healthy gut
Stomach issues. Good old stomach issues. Who doesn't have them these days? I don't exactly consider myself someone with a "strong" stomach but I also don't exactly think I am a "weak" stomach either, maybe somewhere in between?
I'm not the girl farting 24/7 (yes, I just said that) but I certainly do not have a rock for a stomach. I just know how to treat it so it feels its best, but it wasn't always that easy.
Until I learned about probiotics.. 
A few years ago when I started to eat cleaner and actually care about what I was putting in my body, my stomach began more sensitive. It would hurt so badly after going out for dinner or eating foods I wasn't used to anymore. I became intolerant to most dairy products and also any heavy sauces or oils really affected me. On the other hand, I digest gluten extremely well (thank goodness) but I needed to learn what my stomach can handle and what it can't.
This is also when I was introduced to probiotics. I started taking them daily because I was told it was good for my stomach. I didn't even care about anything else. Once I heard probiotics were good for your digestion and stomach, I was game.
I also drink kombucha daily to help with my gut in addition to taking probiotics. I am still convinced I don't fart frequently because of this. It seriously is a game changer people!
Lately I have been taking UP4 Women's probiotics and I am LOVING them. UP4 Women's probiotics contains probiotic strains naturally in a healthy vaginal cavity to promote bacteria and yeast balance. It also helps to relieve occasional digestive discomfort like constipation, gas and bloating. And it contains whole organic cranberry powder with the highest concentration of PACs (the active ingredient in supporting urinary tract health).
UP4 Women's is even vegan, gluten free, Non-GMO, preservative free and soy free. It also is shelf stable so you don't need to keep it in the fridge! It is amazing to travel (I just brought mine to LA with me) and are super convenient to keep on hand.
While taking probiotics daily have made a huge difference for my stomach, I also like to try and foods that are consider "good for our guts." That is why we now have a Happy Gut Breakfast Bowl.
This Happy Gut Breakfast Bowl is filled with probiotic AND prebiotic foods. Probiotic foods have live bacteria and prebiotic foods feed the good bacteria that is in our guts. You can find prebiotics in foods like oatmeal, bananas, honey, legumes, etc. While probiotics are in foods like yogurt (with active cultures, sauerkraut, Kefir, etc. When you try prebiotic foods with probiotic foods, it can give an extra boost for your gut too.
Combine this breakfast bowl with UP4 Women's probiotics and you are SET for a healthy and happy gut. BTW here is a sweet coupon for you guys to use in Target when you buy UP4, you will get $5 off!
Now make this breakfast, take your UP4 probiotics and have a happy gut babes.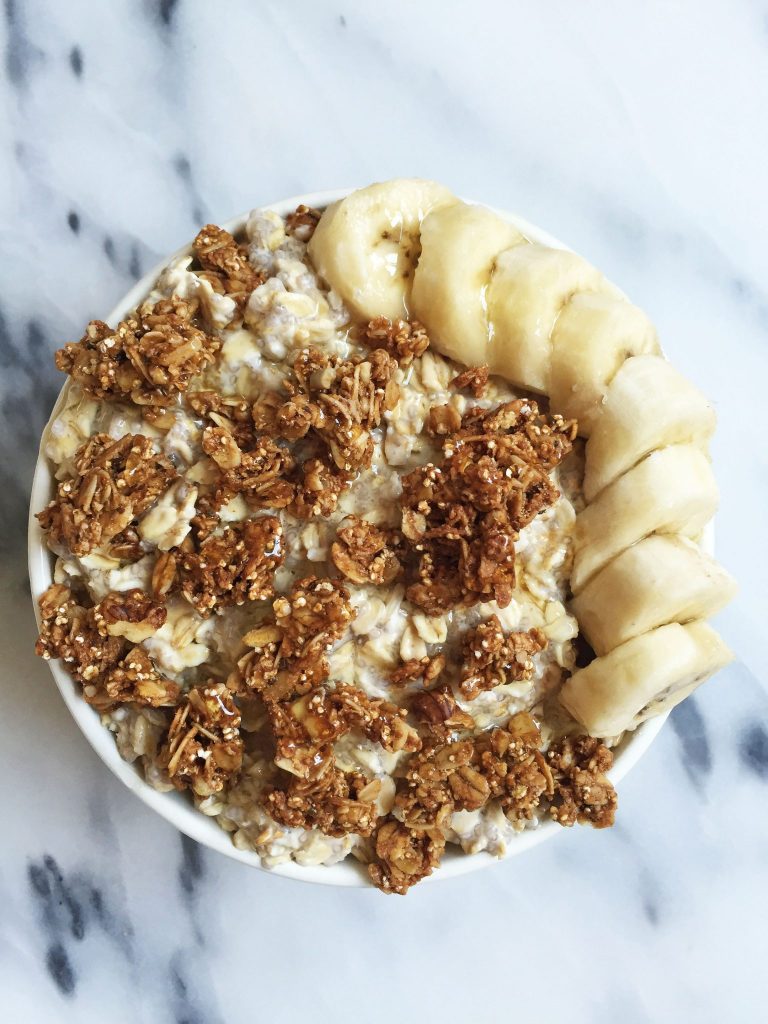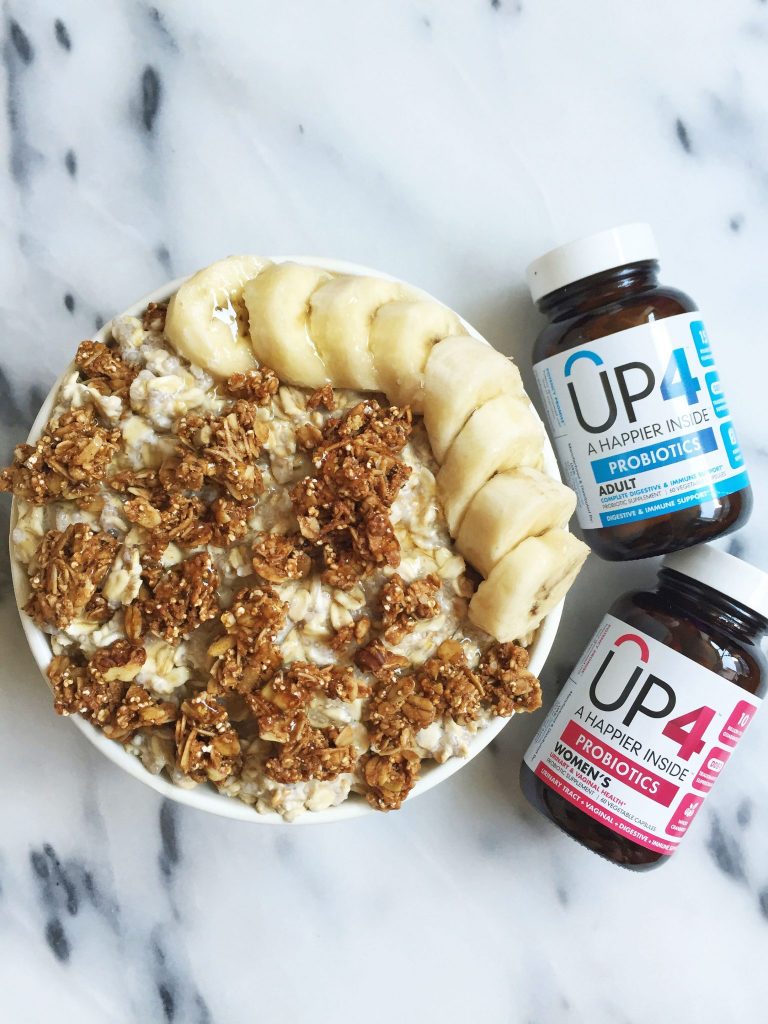 A Happy Gut Breakfast Bowl
Recipe Type
:
gluten-free, vegan
Author:
Prep time:
Total time:
Ingredients
1/3 cup old fashioned oatmeal
1/2 cup unsweetened almond milk (or your favorite nondairy milk)
1/4 cup yogurt (look for one with active cultures)
1 banana sliced
1/4 cup Purely Elizabeth Probiotic Granola (it is so yummy!)
1 tablespoon honey
Instructions
Combine ingredients in your mason jar or tupperware of choice
Place in fridge overnight and enjoy the next day!
Eat in addition to your UP4 Probtioc
xx, Rach
BTW don't forget about this coupon for UP4!

Thank you UP4 Probiotics for sponsoring this post. It means so much to me to work with brands that I love and who support rachLmansfield! And as always, all opinions are my own!