Crunchy Nutty Pumpkin Pie Granola for an easy gluten-free and vegan granola!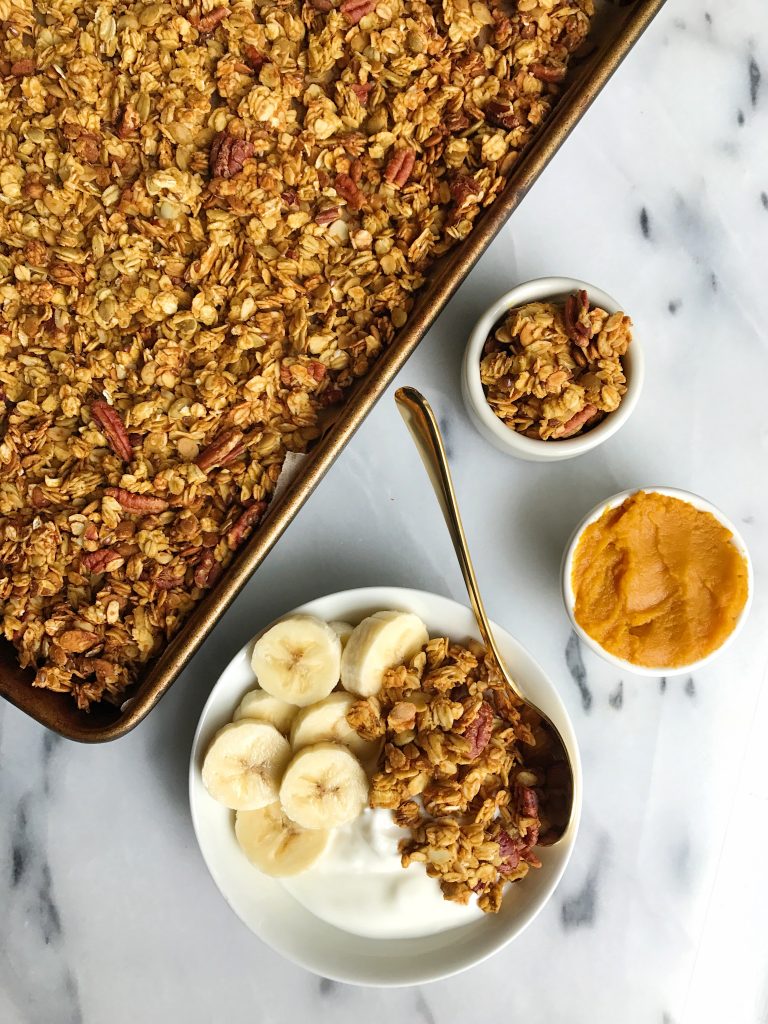 I am the first to admit that I am not the best homemade granola maker. I have tried a few times and yes they are yummy but for some reason I always like the brands you can get at the store better. They are crunchier and the whole skipping the baking part also isn't too bad ha! But I am a sucker for my favorite granola recipes here on the blog, especially the chickpea one!
But this Crunchy Nutty Pumpkin Pie Granola is my first official oat-based granola that I actually made and it turned out crunchy and sweet with no refined sugars! Plus I added a few of my favorite fall spices and nuts and seeds to the granola to make it hearty, satisfying and simple!
It is mind boggling to me the amount of granolas out there LOADED with excess sugar. I am all about a little sweetness but sometimes the amount added is just silly. I use a couple tablespoons of maple syrup in this whole recipe and it is just the perfect amount of sweetness!
I also use Garden of Life®s Raw Organic Extra Virgin Coconut Oil and their Raw Organics™ Chia Seeds in this recipe. In addition to keeping their vitamins and probiotics on hand always, I also use a variety of their pantry staples daily. Their coconut oil is great for both cooking/baking and for any hair/skin/nail needs. Obviously recommend keeping two different jars because that can get a little weird baking with the same oil you lather your hair with 😉
Making this granola will take you 5 minutes to prep basically and then only 30 minutes to cook! Quick and easy and then you will have a delicious fall-inspired granola to enjoy for days.
WHAT YOU NEED
Oats (gluten-free if needed)
Garden of Life Raw Organics Chia Seeds
Garden of Life Raw Organic Extra Virgin Coconut Oil
Pumpkin seeds
Pecan
Cinnamon
Vanilla extract
Maple syrup
Pumpkin puree
Almond butter
Crunchy Nutty Pumpkin Pie Granola (gluten-free + vegan)
Recipe Type
:
gluten-free, vegan
Cuisine:
granola, breakfast
Author:
Prep time:
Cook time:
Total time:
Ingredients
2 cups gluten-free oats
3 tablespoons Garden of Life Raw Organics™ Chia Seeds
1/4 cup pumpkin seeds
1/3 cup chopped pecans
1/2 teaspoon pumpkin pie spice
1/2 teaspoon cinnamon
1/2 teaspoon vanilla extract
3 tablespoons maple syrup
3 tablespoonsGarden of Life®s Raw Organic Extra Virgin Coconut Oil
1/3 cup pumpkin puree
2 tablespoons creamy nut butter
Instructions
Preheat oven to 325 degrees and line a baking tray with parchment paper
In a small sauce pan, combine maple syrup, coconut oil, pumpkin puree, almond butter and vanilla extract and turn to medium heat stir the ingredients together as they melt
Remove from heat
In a large bowl, mix together oats, chia seeds, pumpkin seeds, pecans, pumpkin pie spice and cinnamon
Pour wet pumpkin mixture over the dry ingredients and evenly mix so the oats are coated well
Pour onto baking tray and bake in oven for 30 minutes (shaking the tray after 15 minutes or so!)
Store in airtight container on countertop for a week or in the fridge/freezer for longer!
xx, Rach
Thank you Garden of Life for sponsoring this post. It means so much to me to work with brands that I love and who support rachLmansfield!
SaveSave