Paleo Pumpkin Chocolate Chip Protein Pancakes for a deliciously healthy gluten-free breakfast!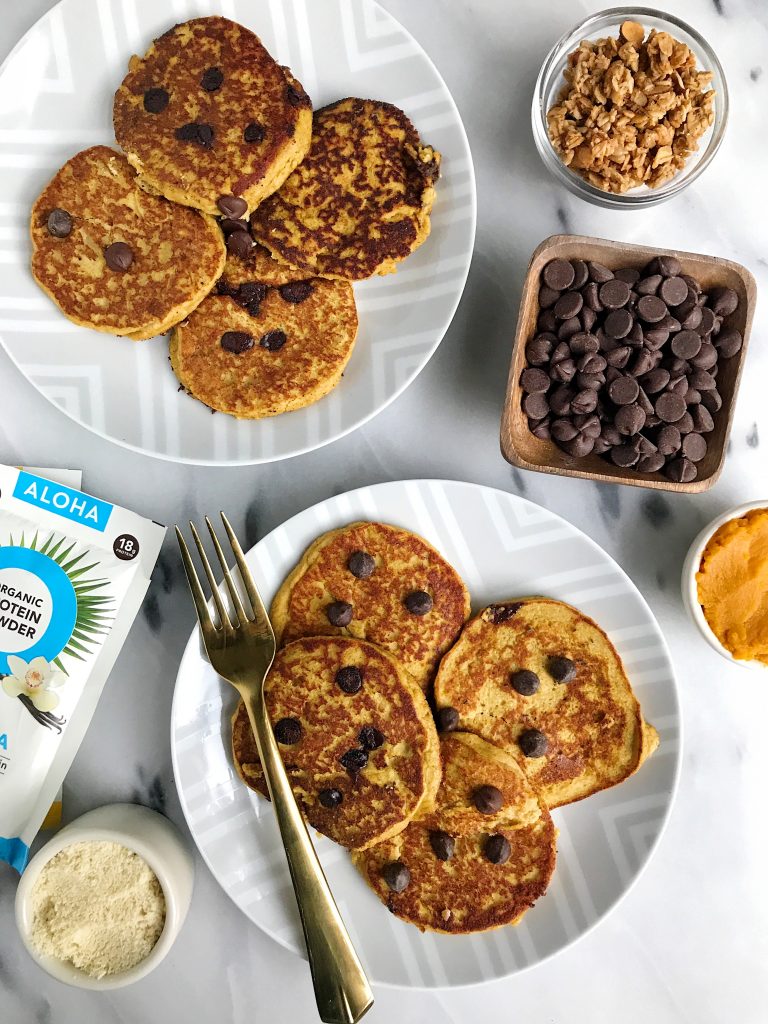 You ask for pumpkin and you get yourself some pumpkin friends!
Looking at my most recent recipes here on the blog, there has been a pretty reoccurring theme of fall-inspired recipes happening on the blog. Pumpkin truffles, granola, cheesecake and more.
Pancakes have been an absolute hit in our home and over on Instagram these days and I am so excited to be sharing these Pumpkin Protein Pancakes with you guys today! They have been my favorite fall breakfast I have been making and they are so simple to make, it is unreal.
These pancakes are pretty much Jord's biggest nightmare because he cannot stand anything pumpkin-flavored. HA! Stinks to be him during the fall season. More pancakes for us, right?
There is even an extra boost in these pumpkin cakes from ALOHA! I use their Vanilla Protein Powder to add even more of a nutritional boost and amp up the protein in these cakes. I have an obsession with ALOHA products and especially their protein powder. It is so clean, so good and really unlike any other protein I have used. No gross chalky texture/consistency and no aftertaste (at least to me). It is also really easy to add to recipes or to your smoothies.
ALOHA protein comes in a variety of flavors like banana and chocolate as well. Their travel packs are a game changer and are a staple when I travel. Such an easy soy, vegan, coconut sugar-sweetened protein option!
I also have found that these protein pancakes stay well so if you are a pumpkin pancake party of one (like me), you can make the batch and save the rest in the fridge for later! I heat mine up on the skillet over the stove or even in the oven. I have found microwaving them makes them a bit chewy/rubbery but that also can work if it's the only option.
WHAT YOU NEED
Canned pumpkin
Eggs
Nut milk
ALOHA Organic Vanilla Protein Powder (code RACHL for 20% off!)
Chocolate chips
Baking powder
Cinnamon
Almond Flour Pumpkin Chocolate Chip Protein Pancakes
Recipe Type
:
grain-free, dairy-free, gluten-free
Cuisine:
breakfast, pancakes
Author:
Prep time:
Cook time:
Total time:
Serves:
About 10 small pancakes
Ingredients
1/2 cup pumpkin puree
2 eggs
3/4 cup unsweetened almond milk
1 cup almond flour
1/3 cup ALOHA Vanilla Protein Powder (code RACHL for 20% off!)
¼ teaspoon baking soda (or baking powder if not paleo)
Sprinkle of cinnamon
Mix in's: ¼ cup dark chocolate chips
Instructions
Grease pan of choice (I used a medium pan) with a little coconut oil
Whisk together pumpkin, eggs and milk in medium/large bowl
Add almond flour, protein powder, cinnamon and baking soda and mix well
Fold in chocolate chips
Heat up the pan to medium-high heat and let batter sit for 5 minutes or so (if too liquidy sprinkle some more flour in the bowl and mix)
Using tablespoon pour batter onto pan (about 2- tablespoons per pancake)
Flip over once the pancake starts to bubble a little (or about 2-3 minutes)
Serve immediately with maple syrup or toppings of your choice
xx, Rach
Thank you ALOHA for sponsoring this post. It means so much to me to work with brands that I love and who support rachLmansfield!
SaveSave