Chocolate Dipped Peanut Butter Cookies made with spelt flour for a healthier vegan cookie!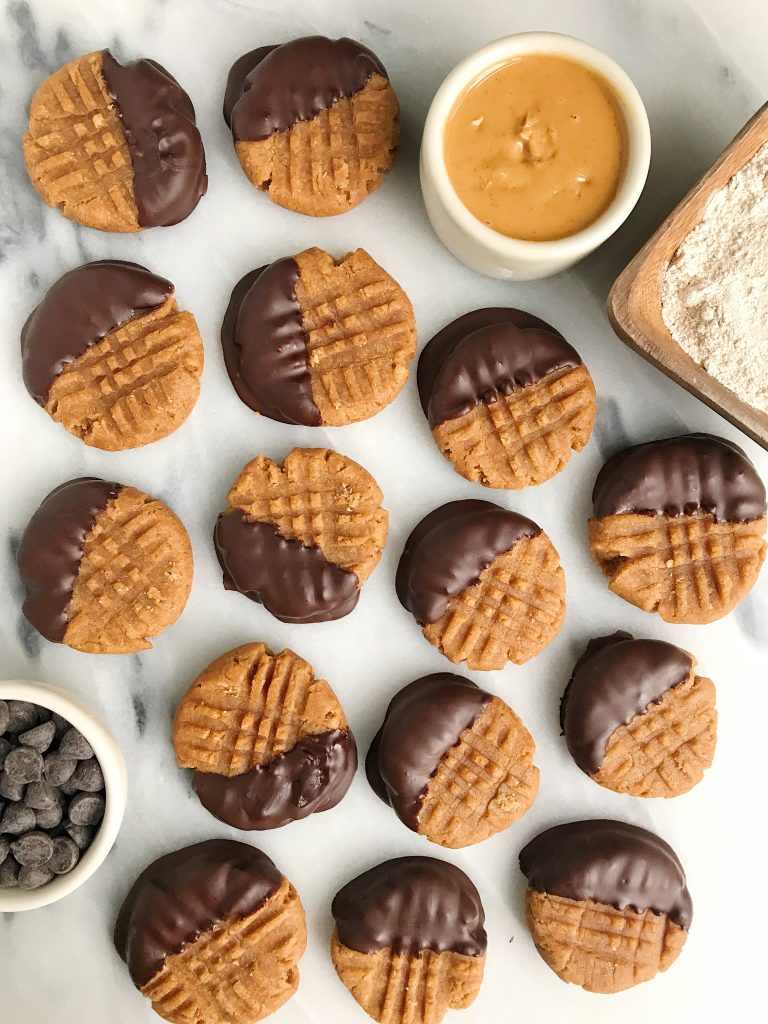 These cookies. Oh my gosh. I melt over these cookies you guys.
All I have to say is BLESS UP that I made them before the elimination diet because just the smell of these Chocolate Dipped Peanut Butter Cookies has me weak in the news (for real though).
I have successfully shared a handful of cookie recipes on the blog this year and last but not one was made with spelt flour. A flour I personally love baking with. I have found it is very easy to use, doesn't have a strong flavor profile and honestly just enjoy using it.
I use One Degree Organics Sprouted Spelt Flour. You read about my love affair and ob
session over One Degree in the Vegan Cinnamon Coffee Cake Loaf. Today we are baking cookies using their sprouted spelt flour. In case you are wondering what the even means or what spelt is, spelt is a pure non-hybridized and nutritious ancient grain. This one is grown without chemicals or any animal-based fertilizers. It is sprouted to help maximize nutrition, make it easier to digested and maximize the flavor. Plus One Degree's is non-GMO project verified!
These Chocolate Dipped Peanut Butter Cookies are the ultimate plant-based cookie recipe for any occasion. All you need are a few simple ingredients and you will have some epic cookies to dip in your almond milk later. When you are finished enjoying these, here are a few of my other favorite cookie recipes.
WHAT YOU NEED
One Degree Organics Sprouted Spelt Flour
Creamy peanut butter
Maple syrup
Almond milk (or any milk)
Cinnamon
Chocolate (I dipped mine is this one – code rachLcoconutcups for free chocolate with orders!!0
Chocolate Dipped Peanut Butter Cookies (vegan)
Recipe Type
:
vegan, dairy-free
Cuisine:
cookies, dessert
Author:
Prep time:
Cook time:
Total time:
Ingredients
1 cup One Degree Organic Spelt Flour
1/2 teaspoon baking powder
1 teaspoon cinnamon
1/2 cup creamy peanut butter (the more oil-y the better)
1/4 cup maple syrup
1/4 cup almond milk (or any dairy-free milk)
1 teaspoon vanilla extract
Chocolate dip:
1/2 cup chocolate of choice
1/2 tablespoon coconut oil
Instructions
Preheat oven to 350 degrees and line a baking tray with parchment paper and spray
In a medium bowl, mix together creamy peanut butter, maple syrup, almond milk and vanilla extract (I used hand mixer but you can use whisk too)
Once mixed well, add spelt flour, baking powder and cinnamon and mix well (it should be very doughy!)
Roll the dough into small ball-sized pieces using about 1-2 tablespoons of dough each
Flatten with a fork to get that crisscross effect and to flatten the cookies to bake
Bake in oven for 8-10 minutes and let them cool for a bit
Once the cookies are cool, melt the chocolate and coconut oil in sauce pan over heat and dip each cookie in the melted chocolate, you can sprinkle some crushed nuts on top too!
Place back onto baking tray and let the chocolate set for about 30 minutes
Enjoy! *These will stay good for 5-7 days or you can freeze for longer
xx, Rach
Thank you One Degree Organic for sponsoring this post. It means so much to me to work with brands that I love and who support rachLmansfield!
SaveSave